- Custom Fit Whitening Tray Service -
We Come To You - A Unique Mobile Service!
We Come To You and simply take impressions of your upper and lower teeth and arrange the fabrication of your Custom Fit Teeth Whitening Trays using specialist dental equipment. Included in your kit is everything required to whiten in the comfort of your own home. Our service is identical to what dental surgeries offer with two unique differences - We Come To You! and You Save $100's!
The House of Mouth offers this revolutionary, one of a kind Mobile Custom Fit Teeth Whitening Tray Service to local Gold Coast, Tweed Coast and Brisbane Residents. This convenient service will ensure you will save both time and money and will negate the need and expensive costs associated with visiting the dentist for this procedure.
Simply arrange a time that suits you for our trained staff to take your impressions. Our fully automated online booking system will prompt you through the process. You will receive an email confirmation on verification of your booking.
Once confirmed one of our staff members will arrive at your address to take impressions of your teeth. During this time our staff will provide you with procedural instructions and will answer any of your questions.
Utilising specialist dental equipment your impressions are used to fabricate your Custom Fit Teeth Whitening Trays. On completion, your Take Home Whitening Kit and Custom Fit Teeth Whitening Trays are priority posted to you.
Now its up to you! Follow the instructions provided with your Whitening Kit and start Whitening! Now you are on your way to a beautifully radiant and whiter, brighter you.
Whats Included in your Kit?
Our Custom Fit Home Teeth Whitening Kits include all components featured in our Complete Home Teeth Whitenining Pola Kits and are gift wrapped (see exact contents below).
Simply choose between Poladay or Polanight and your desired gel concentration.
Your Kit
Everything to start your Home Whitening Treatment. Gift Wrapped.
Pola Whitening Gel
Your choice of Poladay or Polanight Whitening Gel and concentration. Includes enough gel for up to 18 treatments.
Custom Fit Trays
Two Custom Trays - One for your Upper and Lower Teeth
Tray Case
Hygienic case to store your Custom Trays between treatments.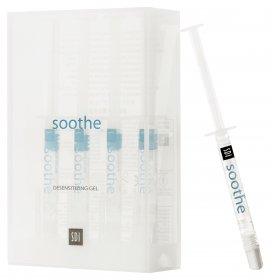 Pola Soothe Gel
Professional Desensitizing Gel to assist with Tooth Sensitivity
Colgate Pro Relief Toothpaste
To assist in the prevention and management of Sensitivity whilst whitening.
Instructions & Bonuses
Procedural Instructions & Tips, Shade Guide, Carry Bag and The House of Mouth Care Pack!
Your trays a custom designed for your mouth this ensures optimal fit, reducing irritation. Custom Our trays limit the danger of whitening gel leakage onto the gums and other sensitive areas of the mouth. This is why we use the same process as your local dentist.
No need for expensive dentist vists as We Come To You! To ensure your utmost comfort we take your impressions in the comfort and privacy of your own home and fabricate your trays using specialist dental equipment.
Our staff are experienced, trained and have vast experience in the dental industry. We have 1000's of satisfied customers and a 100% eBay Feedback Rating. We abide by ACCC legislation and uphold stringent infection control procedures and standards.
At The House of Mouth we always put our customers first and understand with our constant new array of revolutionary services it can be difficult selecting the right whitening option.
Dont Worry! we have developed a simple comparison tool to help you make the best choice before committing to purchase. Simply click the button below to Help You Choose the Product that is best suited to your individual needs. Now, thats a Win!
Pricing is all inclusive which incorporates your 'We Come To You' Impression Appointment, Pola Home Teeth Whitening Kit, Custom Fit Teeth Whitening Trays and Priority Delivery.
Don't pay over $400 at your local Dentist!
Special Offer!
(Limited Time Only - Prices Shown are Per Person)
1 Person: $399 $349
2 People: $389 $339
3 People: $379 $329
4 People: $369 $319
To secure an appointment a $50 deposit (per person) is required at time of booking. The remainder is paid on the day of your appointment.
Please Note:
Click the button above to submit your appointment enquiry and we will be in contact to arrange an appointment shortly.
Turn the page to a...
"Whiter, Brighter You"
& GET FREE Whitening Gel!